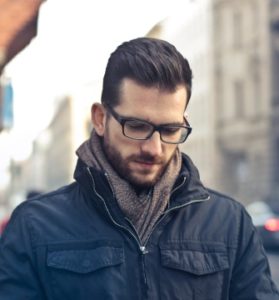 At Penzer Opticians, we stock a wide range of men's frames starting from as little as £45 for complete frames and single vision lenses (conditions apply).
Click for details of our current Special Offers.
We stock rimless, supra and full men's frames to choose from.
At any time we have over 200 men's frames in stock to choose from, so you are sure to find something to suit you. From classic retro styles to trendy modern designer frames, we have a wide selection.
Our mens frames include designer brands
Our designer brands include, Ray Ban, Prada, GUESS, O'Neill, Julian Beaumont, Paul Costello, Henleys, Emporio Armani, Hugo Boss, Calvin Klein, Ralph Lauren, Serge Blanco,  CAT and X-Eyes.
Dublin born Paul Costelloe is one of the most established names in British Fashion. With a strong sense of style and the desire to create wearable designs with a fresh feel, it is easy to see why Paul Costelloe has been the head of such a successful label for over 30 years.
CAT glasses were launched in the year 2002, almost a century after the iconic 'caterpillar-track tyre' was trademarked to be used on steam powered tractors.
Serge Blanco is a former rugby union footballer who played fullback for Biarritz Olympique and the French national side. With his playing days long since behind him, Serge has put his name to a range of eyewear. Team spirit, authenticity, boldness: This is in the DNA of the Serge Blanco brand, eyewear designed to create an exclusively masculine collection.
From the uber-cool world of Henleys comes an eyewear collection that befits the bold, street-inspired brand. Henleys is a major player on the UK fashion radar and its distinctive, confident eyewear designs appeal to the Henleys wearer's individual sense of laid back style. The eyewear collection features the season's top trends, embodying military colours and easy-to-wear cool for glasses with attitude.
O'Neill glasses are designed using the same style and precision that has helped make O'Neill the go-to brand for surfers the world over. The Californian company is credited with inventing and manufacturing the first wetsuits back in the early 1950's.
Hero for men is an established and trusted brand. The collection features contemporary men's designs, utilising the latest materials and techniques, alongside classic models. Look out for the immensely popular Easyfit option too.
The HUGO BOSS Group is one of the world market leaders in the premium fashion and luxury segment of the apparel market. The Group focuses on developing and marketing high-end women's and men's fashion.